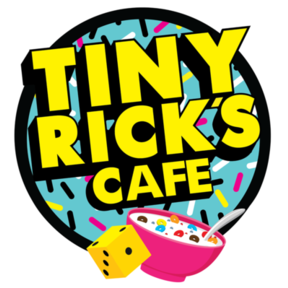 Hi,
We are Poppy and Cliff at Tiny Rick's Cafe!
Due to the current situation we are now closed until further notice. But fear not! We have a board game delivery service! All games listed here are available to rent for 3 days and will be delivered to your door for free (within a 4 mile radius of the cafe or an extra cost will be added). We will take orders before 4pm and deliver after 6pm the same day!
Scroll down and click on 'show all open listings' to view the full list and the price on each game is the cost of deposit and then at the top of the information it will have the price of rental.
Larger games cost £11 and smaller games £6. Get 3 smaller games for £11!
Paying the deposit takes you through to Paypal and we will receive a notification that you'd like the game.*
Your deposit it returned to you upon collect of the game in its original condition and will all its pieces. We will arrange collection and, again, this will be after 6pm.**
Each listing will give you a summary of the game, appropriate age, how many players and the average length of a game to play through once. There will also be pictures and links to Youtube videos demonstrating the game and showing you play through's so please take your time to make sure you select games which are appropriate to your needs as once a deposit has been sent changes can not be made to your order due to Paypal fees.
Feel free to message us on Facebook or Instagram or call us 07949612072.
When you click on 'pay deposit' make sure you include your address and phone number in the extra information box. You can also add a food order in this information box and we can take CARD ONLY on delivery.
Cereal £5.50:
Reeses of the Lost Ark: Reeses Puffs, Lion cereal, peanut butter, Flake
Fruity Krueger: Lucky Charms, Rice Krispies, Rainbow drops, strawberry sauce
Don't Feed it after Midnight: Apple Jacks, Weetos, Aero mint, After Eight, toasted marshmallow
Frost Gordon: Donettes, Frosties, Party Rings, marshmallows
Two mystery Pop Tarts £3
Crisps 80p:
Ready salted walkers
Cheese & onion walkers
Salt & vinegar walkers
Pickled onion monster munch
Wotsits
Frazzles
NikNaks
Cans £1.30
Coke
Diet Coke
Fanta
7up Free
Here's a full list of the games available! Once a game has been rented the listing will be unavailable.
Kingdomino
Carcassone
Forbidden Desert
Forbidden Island
Cash n' Guns
Rats to Riches
House of Danger
Bunny Bunny Moose Moose
Shadows of Amsterdam
Fungi
Absolute Balderdash
What Came First
Tension
Tags
20 Second Showdown
Deep Space D-6
Wits and Wages
Skull
Quirky
Ingenious
Small World
Munchkin
You Got Crabs
Scrabble
Luchador
Splendor
Azul
Partners
Codenames Duet
Codenames Pictures
Codenames
Nyctophobia
Smash Up
Unlock! Mystery Adventures
Unlock! Escape Adventures
Bohnanza
Taboo
Decrypto
Articulate
Accentuate
Obama Llama
Blockbuster
Word Slam
Lazer Ryderz
Machi Koro
Boss Monster
Boss Monster 2
FunEmployed
Dragoon
Scott Pilgram Card Game
Dominion
Coup
Spyfall
The Resistance
Friday
Ghostel
Truth Bombs
Eyetoons
Chameleon
Clickbait
Linkee
Unstable Unicorns
Escape The Dark Castle
Home on Lagrange
The Lost Expedition
First Dates
Gutterhead
Cards Against Humanity
Cards Against Muggles
Joking Hazard
Bears v Babys
Cobra Paw
Rhino Hero
Rhino Hero Super Showdown
Pictureka
Peach Snaps
Ice Cool
Misty
Happy Salmon
Monster Match
Funky Chicken
Triominoes
Sushi Dice
Baffled
Jenga
Disney Pictopia
Harry Potter Pictopia
Santorini
Magic Maze
Dixit
Dixit Odessy
Pantone
Tsuro
Patchwork
Tatsu
Timline History
Rainbow Rush
Slap Cat
Cockroach Poker
Exploding Kittens
Centipede
Bananagrams
Zip it
Monopoly
Qwirkle
Camel Up
Ticket to Ride New York
King of Tokyo
King of New York
5 Minute Chase
Lanterns: The Harvest Festival
Sushi Go
Colour Brain
Frenetic
Nmbr9
Beasty Bar
We can not rent out any games to anyone showing symptoms or those suffering from Covid-19 for the health and safety of the public.
All games will be cleaned and be kept quarantined for at least 3 days before being allowed back out for rental.
DEPOSIT PAYMENTS BY PAYPAL.
*ON USING OUR SERVICE YOU AGREE TO ADHERE TO THE FOLLOWING T&CS:
1. Confirmation of receipt must be clicked upon receiving game or deposit refunds can not be returned.
2. Items must be available for collection three evenings from delivery date.
3. Items will be checked for parts and photographed for condition. Any change in condition of delivered game or parts missing on return may result in loss of partial or full deposit.
4. If the game is unavailable for pick-up on third evening and no answer is received on collection then late fees will be applied.
https://www.facebook.com/tinyrickscafe/
https://www.instagram.com/tinyrickscafe/
https://www.twitter.com/tinyrickscafe
No followed people